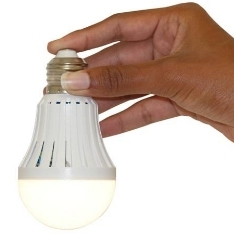 A60 Globe Light 5w Rechargeable Emergency Cool White
Product Codes
 B22gs-5w25cwE
E27gs-5w25cwE
Power (watts)
5
Operating voltage
200-250v
Lamp cap
E27 / B22
Expected Life (hours)
1000 Duty Cycles
Light output (lumens)
300 (cw) 
Colour temperature
6000k Cool White
 
Colour rendering index
>70
Beam angle (degrees)
180
Dimmer Compatible
Non-Dimmable
                : Incandescent
40 w
Replaces  : Halogen
N/A
                : CFL
15 w
    This value for money LED A60 Globe Light that replaces a 200-250v incandescent or CFL A60 Globe and
which uses up to 8 times less electricity than it's retrofit alternative, comes with a 1 year warranty.
This Cool White closely replicates a 10w CFL A60 Globe with the additional advantage of automatically switching on using its internal power supply during power failure or load shedding.
This bulb uses 25 SMD 2835 Sanan LED chips and a translucent lens to give a very even light spread throughout it's 180° beam angle while being operated on either grid or self power.
The life expectancy of this globe is 1000 duty cycles (full recharge and discharge) and has an expected LED light life of 30000 hrs and is RoHS compliant.
The battery life of the globe from full charge is over 5 hours, the first 2 will be at full light output and then slowly dimming automatically for the remainder, to extend light duration.
This bulb should not be used in conjunction with OLD incandescent globes or dimmers as this adversely effects the normal operation and longevity.
The battery charges when the light is switched on at the wall socket on a 220v/240v supply.
This globe can also be used as a torch by bridging the contacts with your finger or other part of you body
This bulb is not currently available in a dimmable or warm white version but these may be available shortly.
Recommended Retail Price: R 147.00
Registered Dealer Discounts Apply
Related Products

E27 Globe Light 6w G95 Ball 345 degrees
7w 230v Dimmable LED Globe that replaces a 60w Incandescent Globe

7w 230v LED Bulb that replaces a 60w Incandescent Bulb