ESKOM Rebate Projects
ecoLED globes are used in large projects all around South Africa. We do not conduct lighting projects ourselves but facilitate Architects and Project Managers to provide the end user with the most suitable lighting solutions for their developments. Apart from our online savings calculator we provide our "dealers" with technical information and more advanced calculators to quantify savings using our globes. These help the end user to achieve the best possible result from their lighting retrofits or new installations. Please call Mike at ecoLED if you would like some references to projects completed by our dealers. As a dealer please feel free to submit your details for project listing on this website.
Temporary hold on rebates
The light at the end of the tunnel has been switched off, for  the moment anyway. There is a temporary halt on all ESKOM LED retrofit projects. This does not mean that it is smart to waste money until Father Xmas comes around again. In most cases replacing your existing lights with ecoLED lights will incur an electricity saving equal to the cost of the lights within 18 months calculated on normal usage. To see how this works and what the return on investment (ROI) is in your specific scenario, download our cost saving calculator and work out the saving for yourself.
ESKOM Rebates
ecoLED is registered to implement ESKOM rebate projects that fall under the "Standard Product" program. We have undertaken numerous projects that conform to the conditions of this rebate. Should you wish to take advantage of the ESKOM rebate we welcome you to contact us or download the "ESKOM Rabate Pack" from this website. You will need to meet the following conditions to apply:
The entity applying must be a registered business or commercial establishment. eg. Office, Shop, Guesthouse, Restaurant, Workshop etc.
The applicant must have a record of it's last electricity bill fully paid up. (rebate only gets paid to electricity customer or premises owner).
The demand reduction must be greater than 1kw (minimum of 20 x 50w lights)
Lights must have a load factor of at least 5% (operational more than 30 minutes per day)
Total energy saving must be greater than 2MWh/a (we will help you calculate this)
Products used must be approved or accredited by ESKOM (ecoLED globes have been tested and approved by ESKOM)
Applications may be subject to additional criteria from time to time. (please enquire)
Standard Product rebate process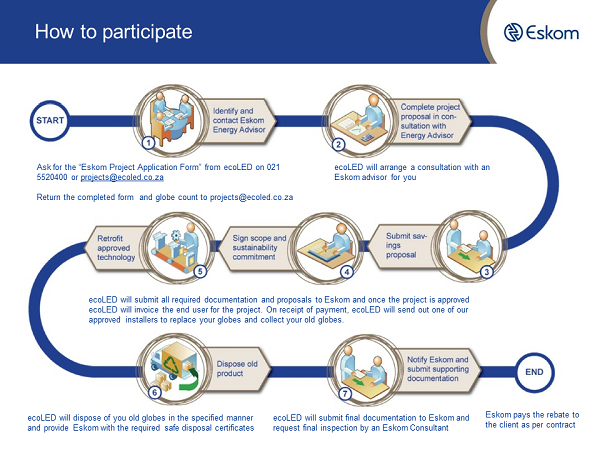 Projects are limited to the boundaries of South Africa